ABOUT SANGHA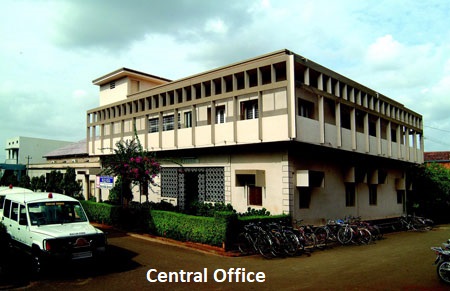 Basaveshwar Veerashaiva Vidya Vardhak Sangha (B. V. V. Sangha), Bagalkot is situated in the northern part of Karnataka. Established in 1906 by his Holiness Gurubasav Swamiji of Bilur, Sangha started with a sanskrit pathashala, is now a leading educational organization running more than 120 institutes and various campuses spread over more than 600 acres in 4 districts. It has the experience of successful experimentation in all aspects of education. Sangha has been serving the poor, the under priveldged and needy people of this backward area for more than a century upholding social, human and ethical values with emphasis on "WORK IS WORSHIP" the basic philosophy of Lord Basaveshwar. Here is the success story of this organization, which stands distinct in the southern part of India, for its high order selfless service and putting up its best efforts for providing quality and modern education to all sections of the society.

The prominent colleges are in various domains such as Arts, Science, Commerce, Law, Engineering & Technology, Dental, Medicine, Management, Education, HR Training, Sports and Vocational trades. Most of the institutions are recognized and accredited by organizations of national and international repute. Around 50,000 students are learning under the supervision and support of nearly 5,000 well qualified and dedicated staff members. There are 24 boys and girls hostels accommodating thousands of students with the state of art facilities.

A new phase of experiments of growth came to the fore, two decades ago. The Sangha ventured on to opening institutions imparting education and services of different kinds. Job oriented Diploma, paramedical courses and community colleges were started. After this period, the Sangha forged ahead, each year opening new institutes and adding different courses in the existing institutions. The types of institutes and the kinds of courses are vivid, need based and spread over both urban as well as rural areas. The kinds of courses and institutes started during this period range from vocational courses like vehicle driving, tailoring to professional courses like medical college, from research centers to management studies and Open University study centers to the activities including the signing of a memorandum of understanding with Sagina Valley State University (SVSU) USA for faculty and student exchange programs.

Besides building many educational institutions, the Sangha has been serving the society in many other forms. Every year, cultural Melas are regularly organized, on auspicious days, which make for social integration and cultural exchange. The state level conferences like Kannada Sahitya Sammelana, Sharana Sahitya Sammelana, mini Olympics have been ardently organized for the welfare the society.

In tune with the modern education and training, the underprivileged part of the society are served through the Science and Technology Entrepreneurship Park (STEP), State Open University and Indira Gandhi Open University study centers. The rural mass is reached through Rural Development Foundation and Self-employment Training Institute (RDF and SETI). The services rendered to the society in the form of community polytechnics is note worthy. In recognition of the services rendered by BEC-STEP, Former President of India Sri A. P. J. Abdul Kalam awarded the BEST STEP in the country. Thousands of rural youth of more than 45 villages have under gone training in different trades. Seminars, workshops and training camps on 'Self- help Groups' and 'Community Service and Appropriate Technology' are regularly being organized.